Neige à Saint Gilles des Marais – tutorial
It is not for nothing that the word "swamp" appears in its name. Located about twenty kilometers from the house, the village is often flooded. It is a winter evening, it will be cold, the snow crunches, night falls and silence reigns. The edges of the water are not thawed the ice is thin but we must represent it.
- feuille de papier arches 300 gr grain fin tendue 26 X 36 pour une aquarelle 27 X 19 de format encadré 30 x 40cm
- pinceau Raphaël 8404 et 8402 n°6
- pinceau à lavis Raphaël n° 4- 803
- pinceau plat synthétique
- porte plume
- porte mines HB
- gomme
- gomme crêpe
- papier essuie tout
- drawing-gum
- 2 récipients d'eau
- Terre de sienne brûlée
- Terre de sienne naturelle
- Jaune de Naples
- Bleu winsor nuance vert
- Gris de payne
- Indigo
- Violet transparent
- Or vert
- Sépia
- Vert phtalo
- Vert de vessie
- Cramoisi d'alizarine
- Rose permanent
The image that will serve as a support for the tutorial.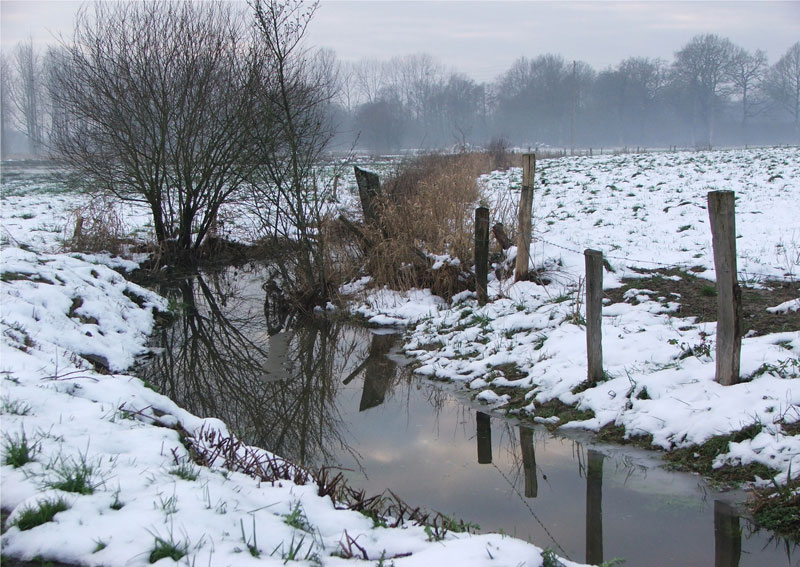 Step 1:  Sketch and drawing gum.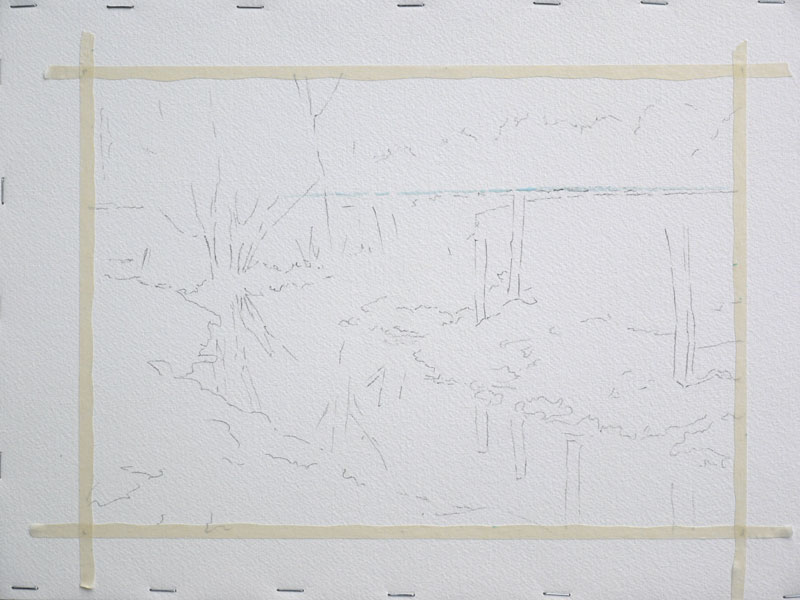 Step 2 : The sky
Moisten the area of sky. Put by touches Naples yellow, blue winsor green shade. Then in the wet matt to represent the distant trees, leav some blue on the bottom. The mixture: touches of blue winsor, indigo purple scarlet transparent. A touch of burnt sienna on the left. Let dry …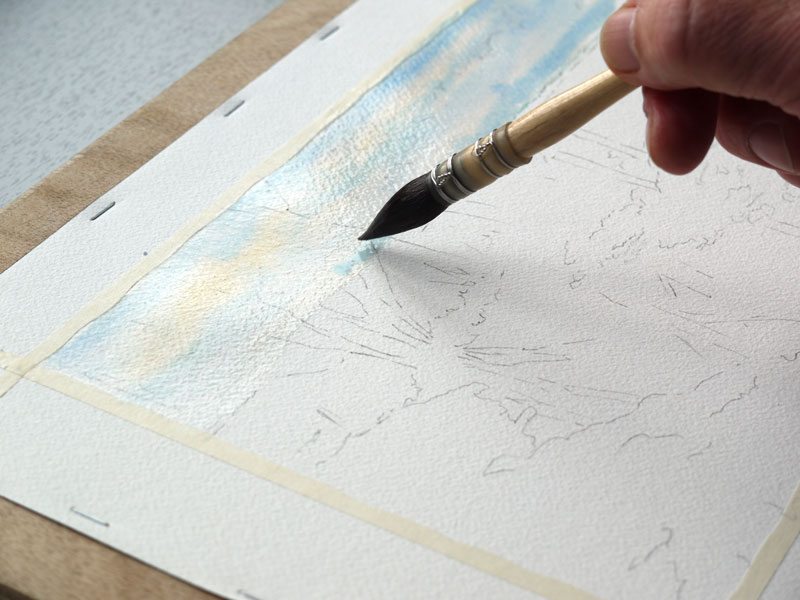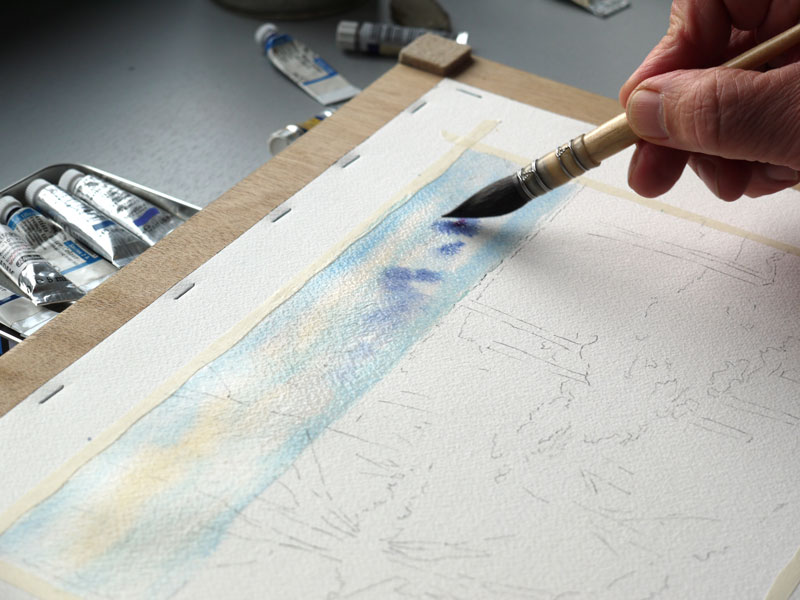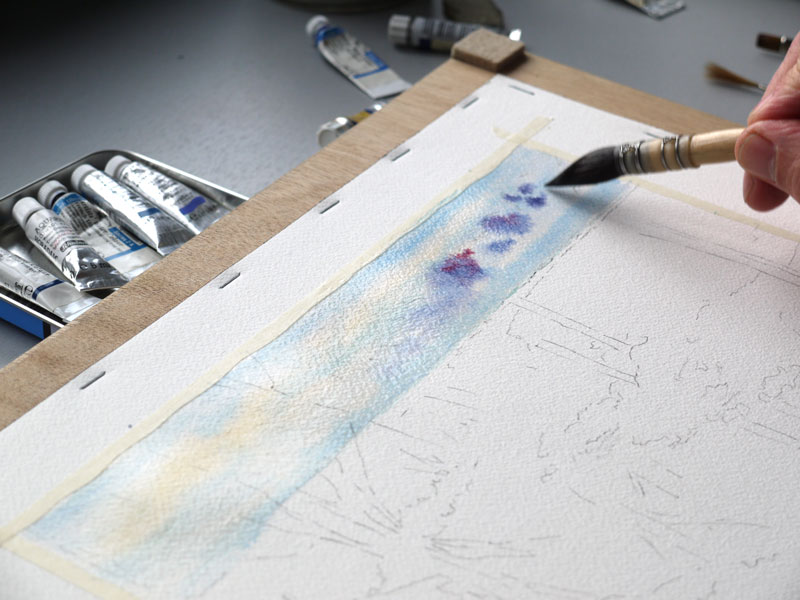 Step 3 : The Snow reflects the sky
I spend a wash drawing on the entire surface of the bottom, it consists of a Naples yellow diluted.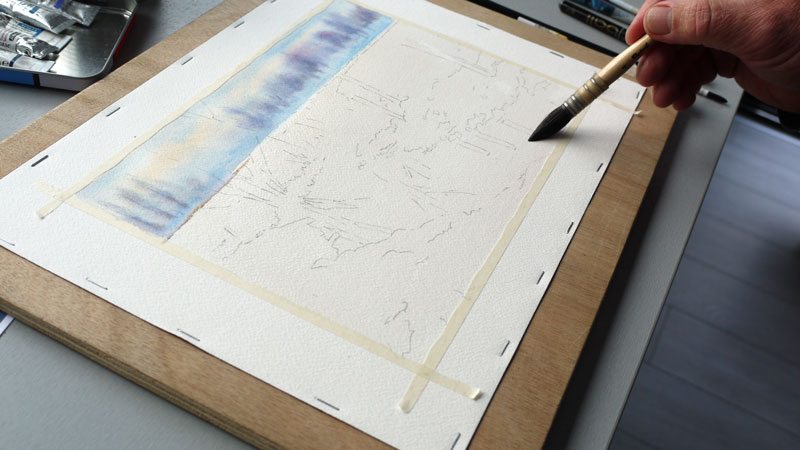 Step 4 : The distant wild grasses
Some land touches of natural and pink opera hers.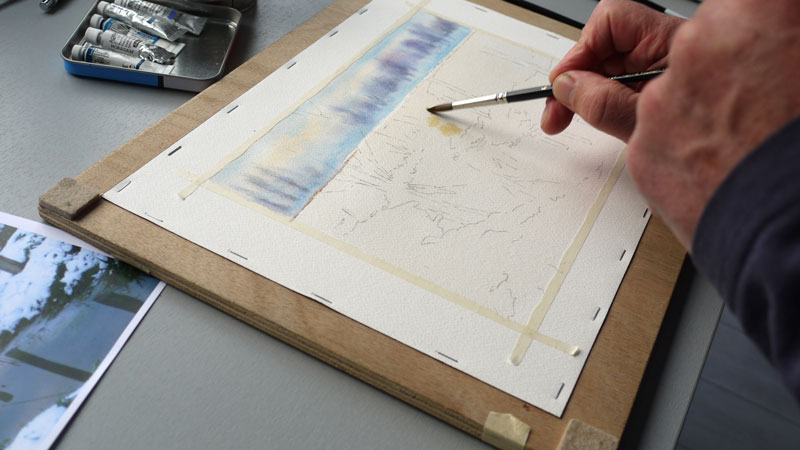 Step 5 : Using an old paintbrush, laying the drawing gum to the white areas of snow to the edges of the banks, the pickets on the water.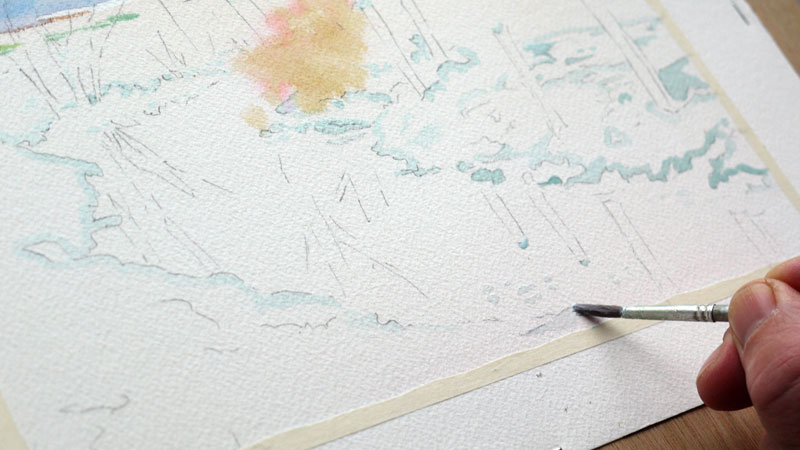 Step 6 : After having moistened the whole river, I put the reflection of the sky. For keys in the wet: land of natural hers winsor mixed blue indigo + crimson, Payne's Grey and transparent purple. I take this moisture to lay at the feet of my sepia shores of mixed green May and transparent purple. I let it dry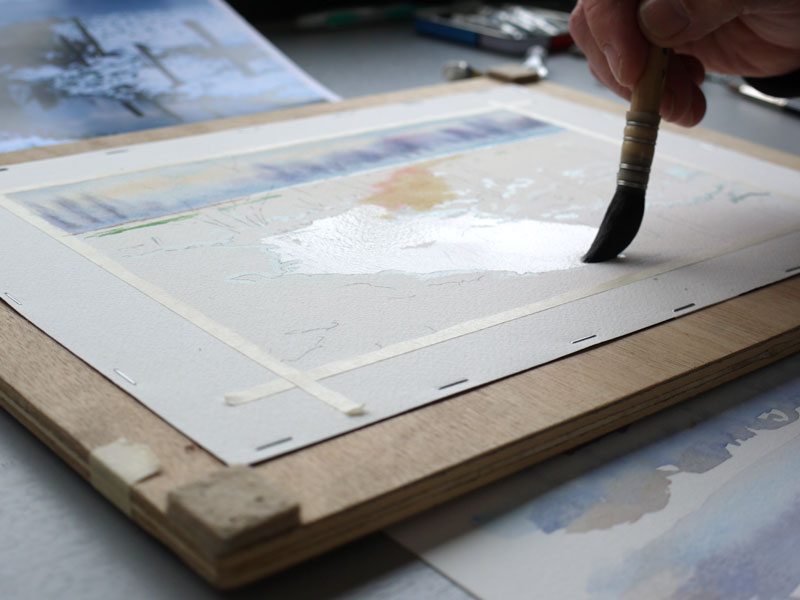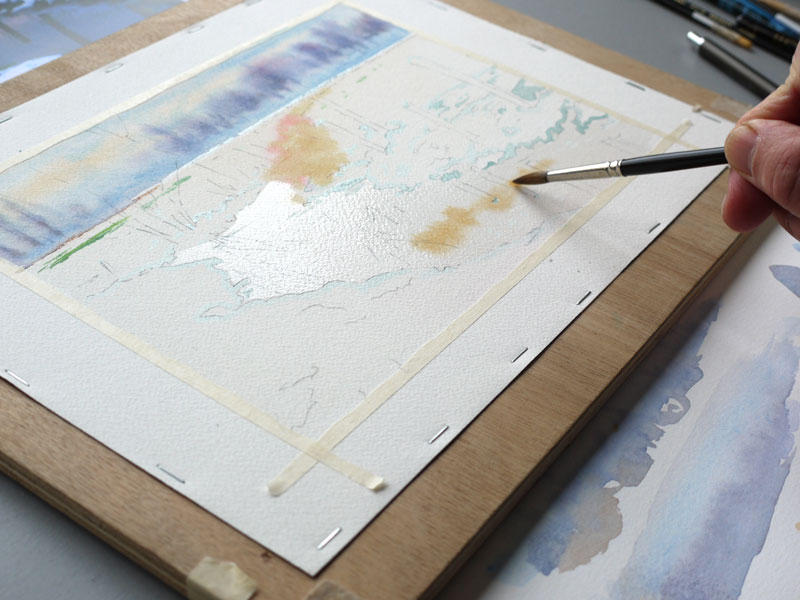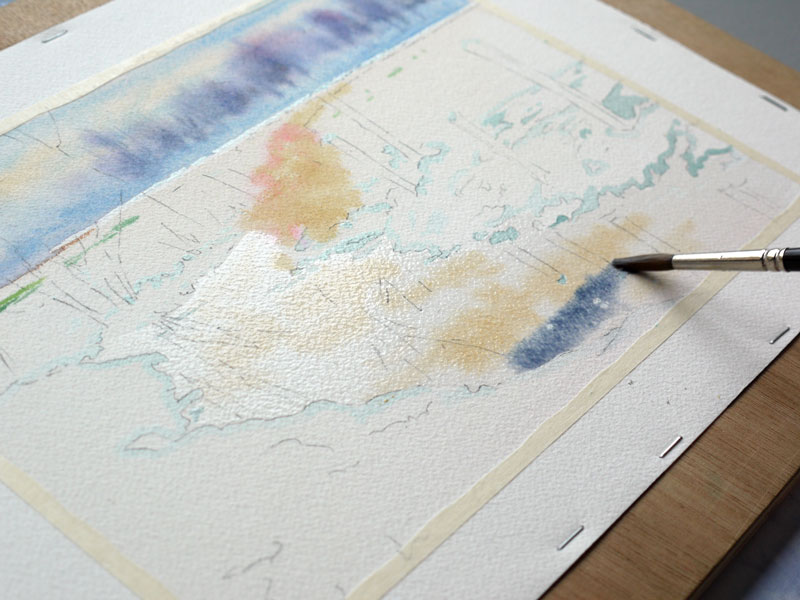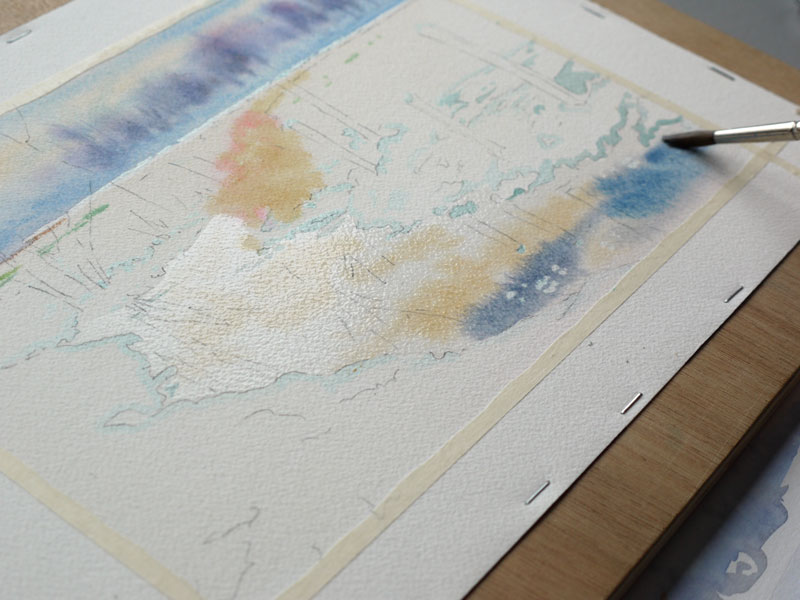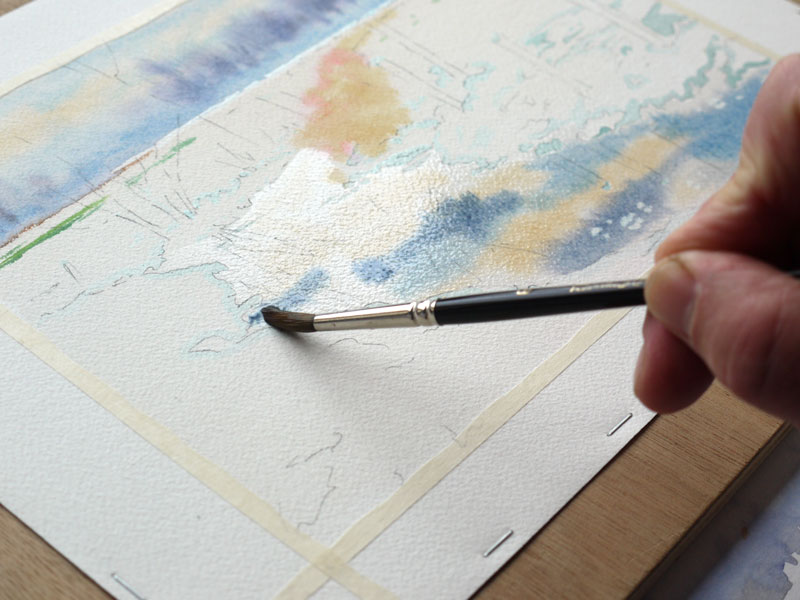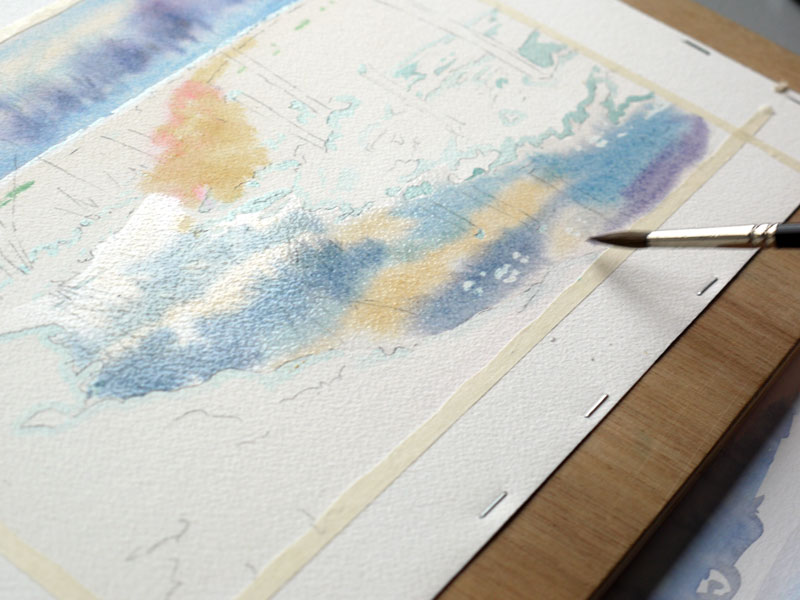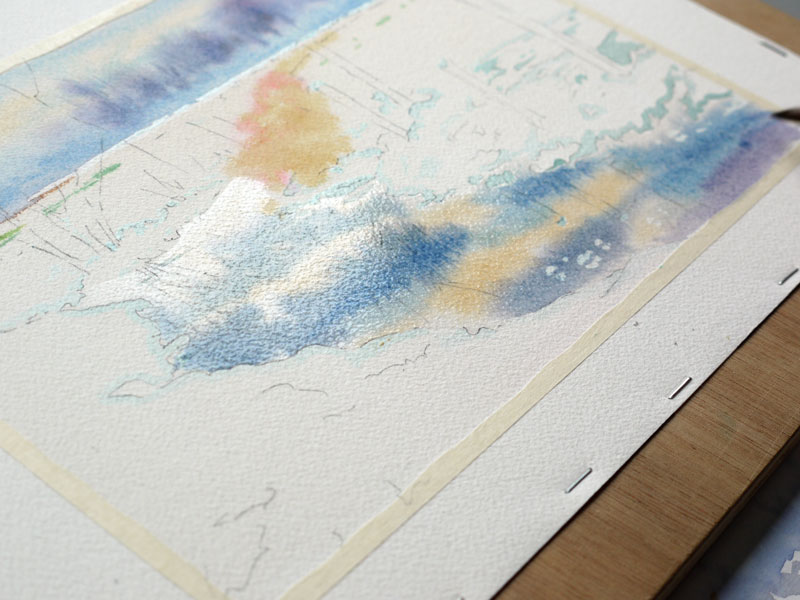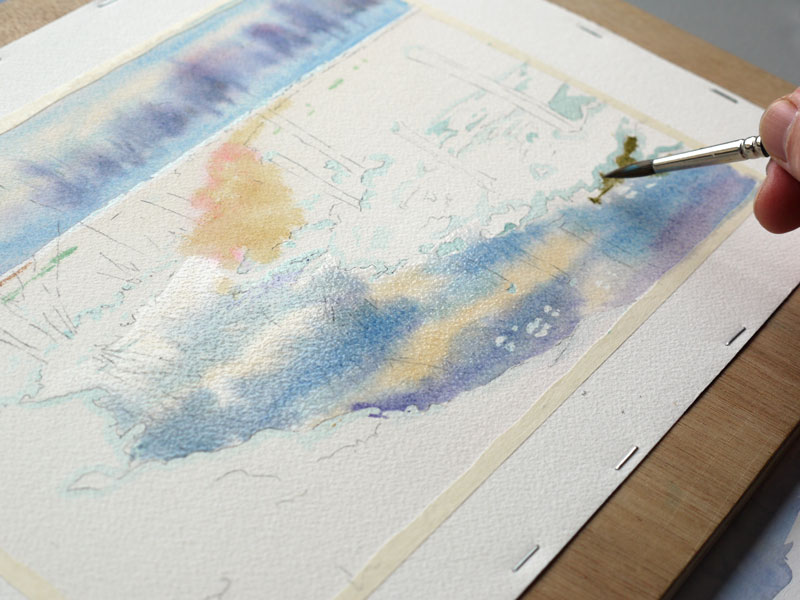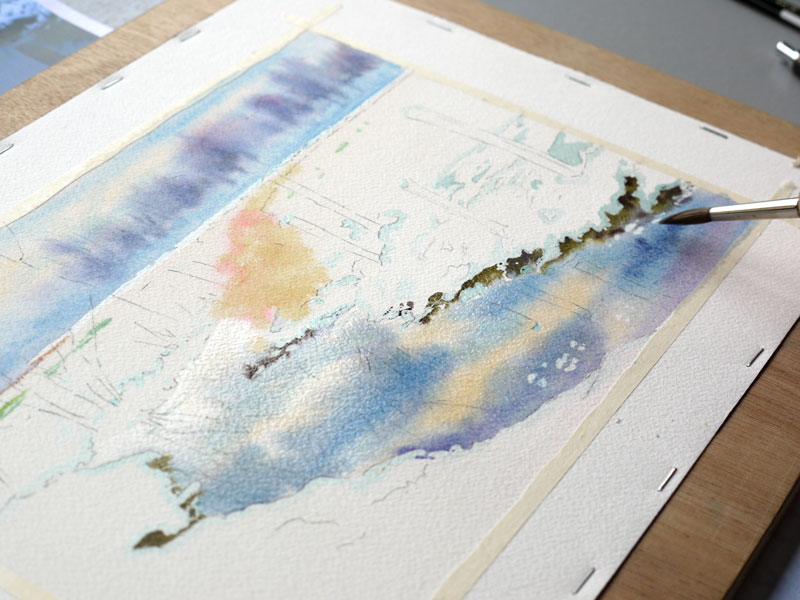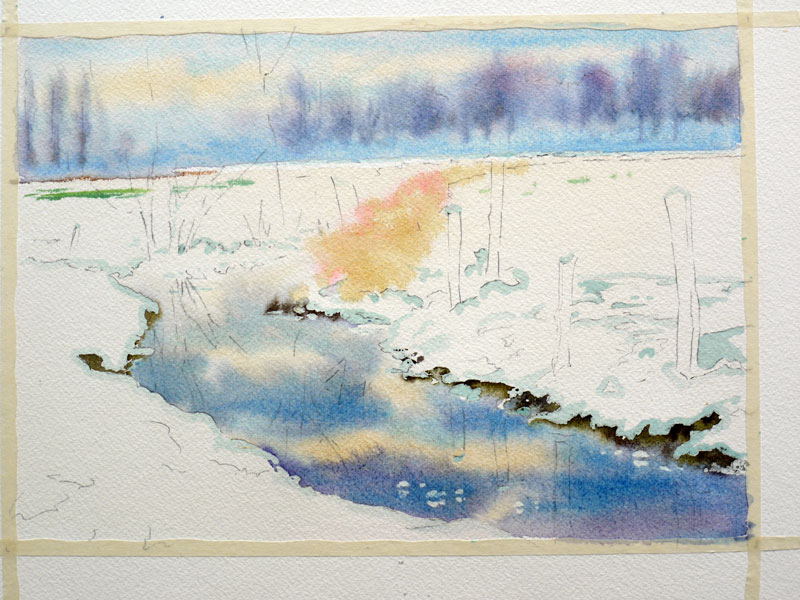 Step 7 : I come back to my weeds with a more sustained mix: purple transparent, permanent pink, earth burnt sienna.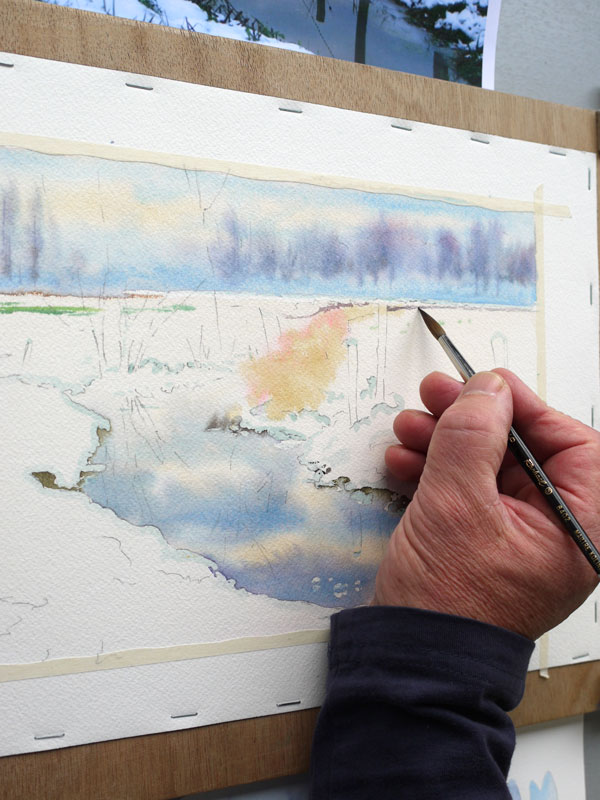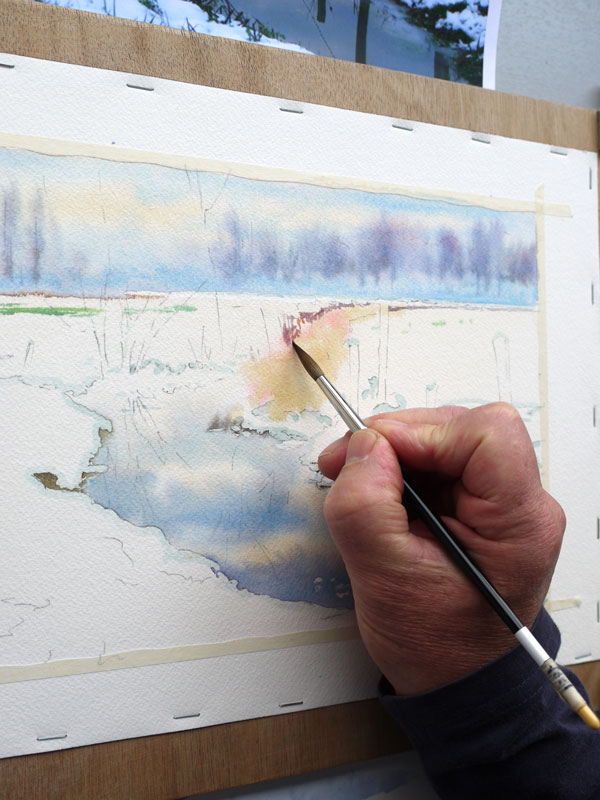 Step 8 : Using a green phthalo, I create the farest herbs with small spaced keys.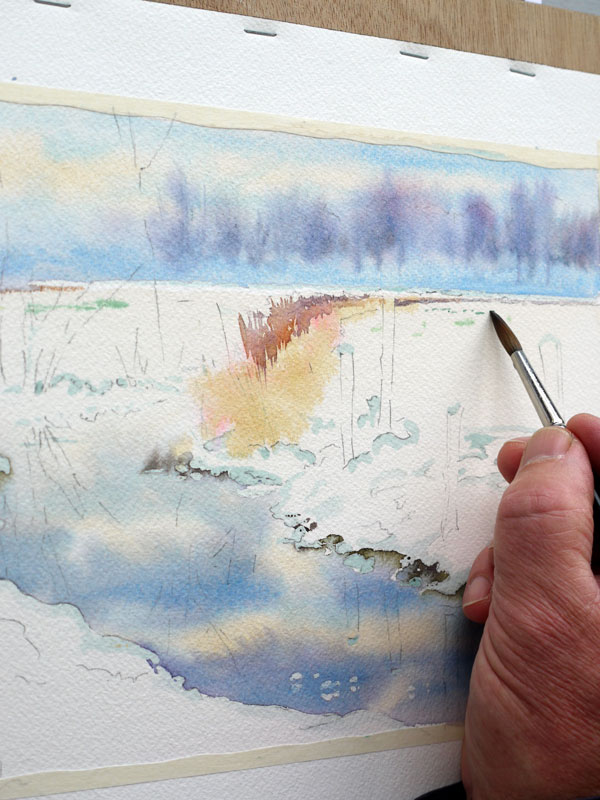 Step 9 : I return to my river banks, pole, shrubs with mixing variations: burnt sienna, Permanent pink, burnt sienna, transparent purple, blue and red Winsor, indigo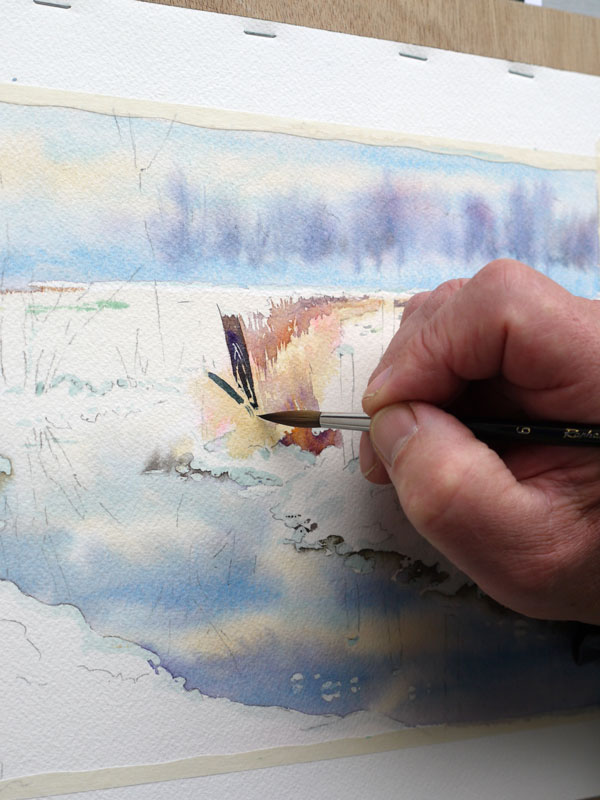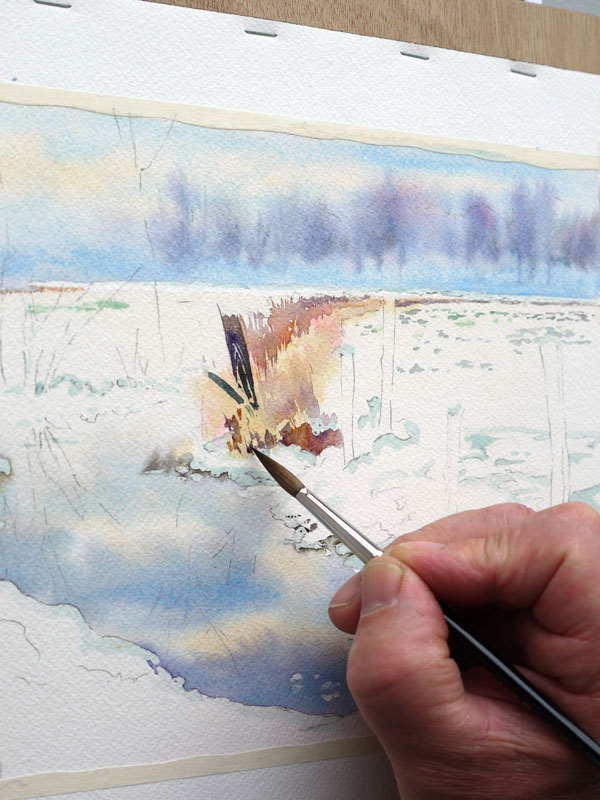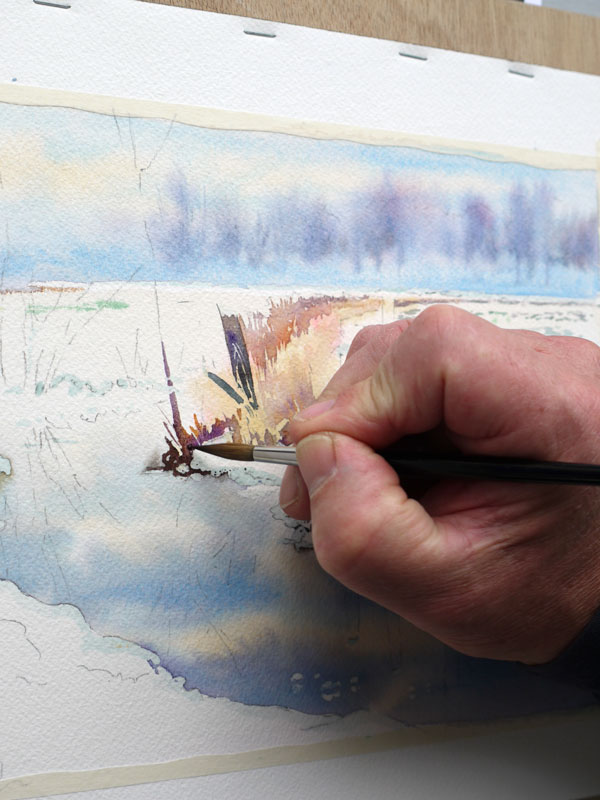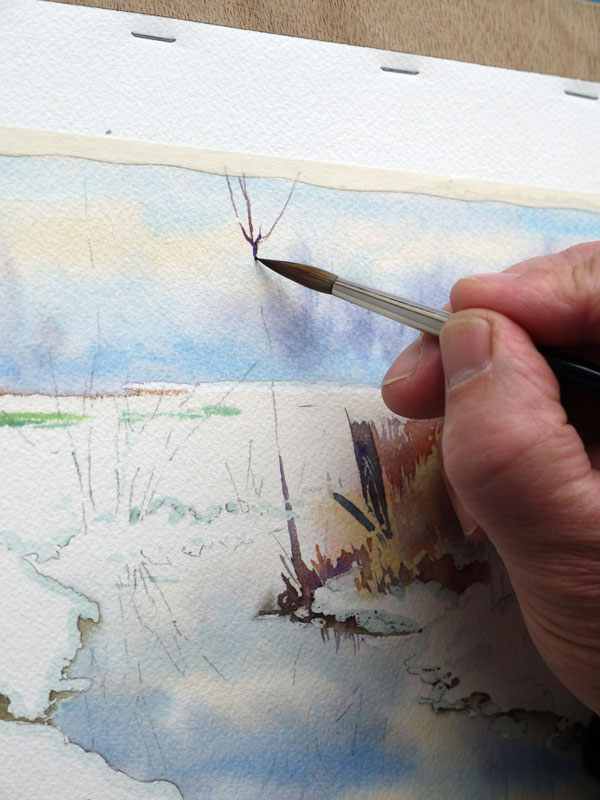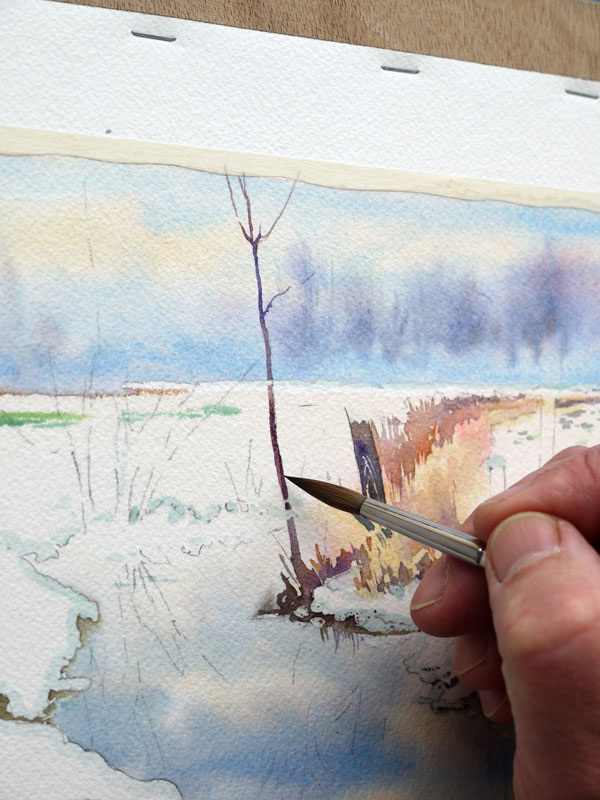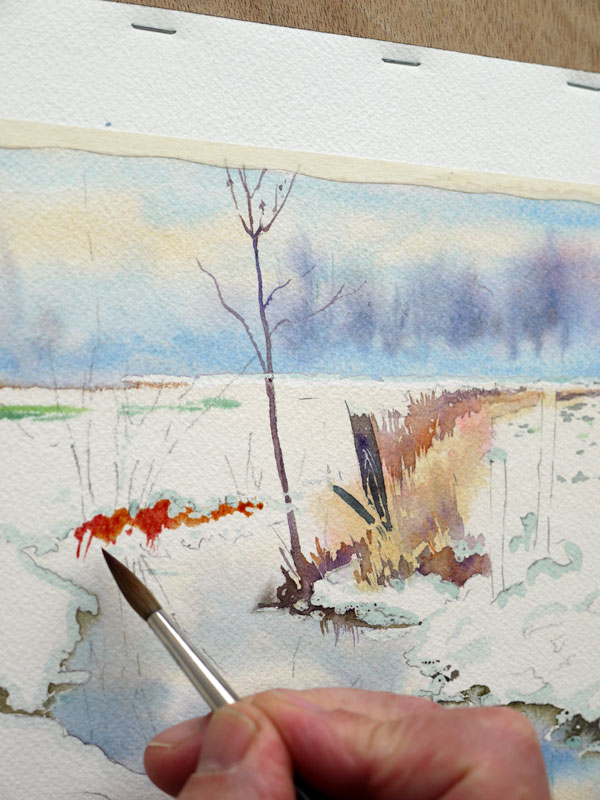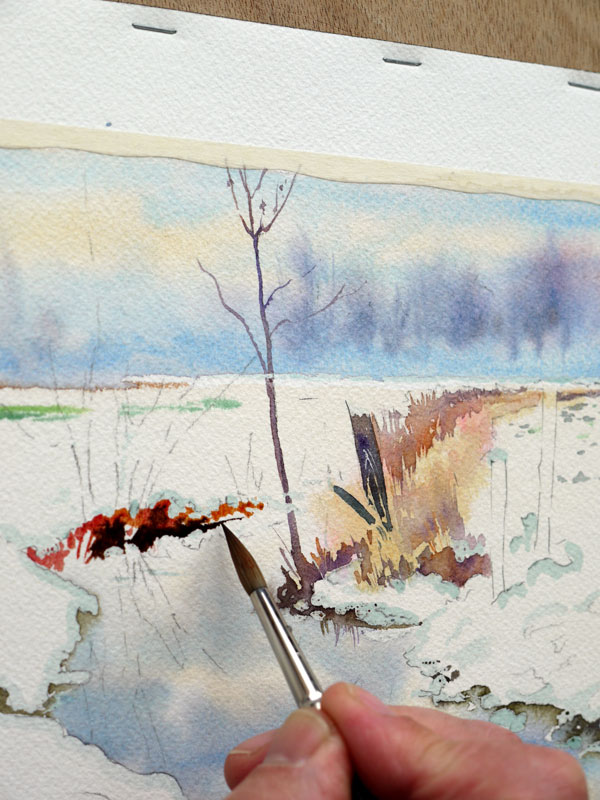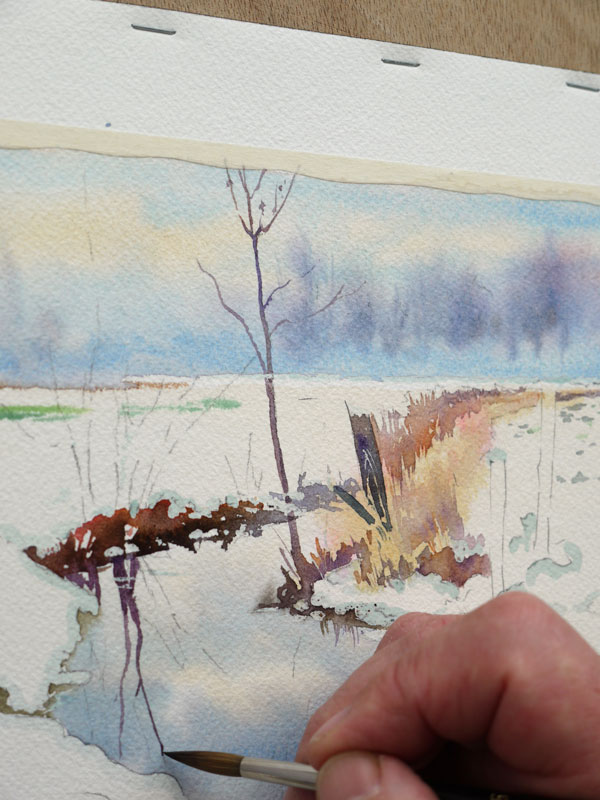 Step 10 : Using my 8404 Raphaël brush, remotely maintained and horizontally, I lightly rub the paper for giving the idea of thin branches and leaf at the tips of branches, with violet color.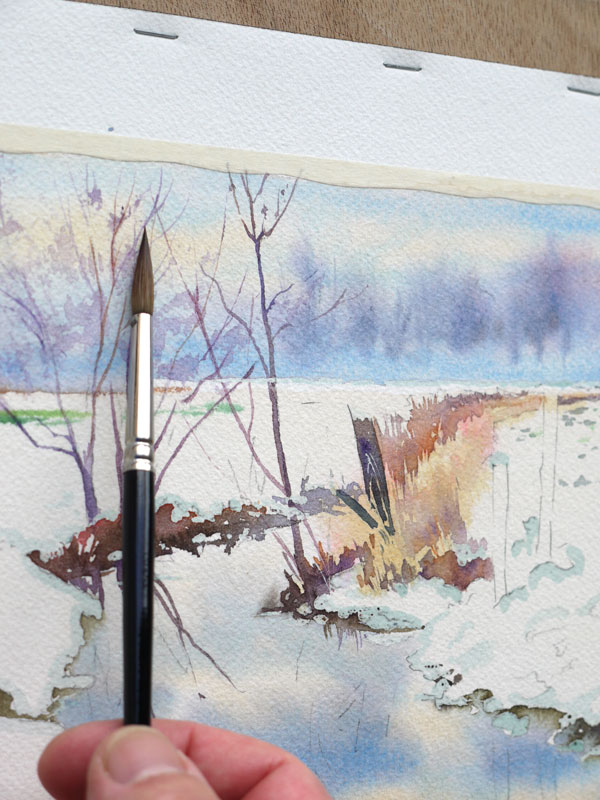 Step 11 : Je finalise mes piquets en faisant varier les tonalités : terre de sienne naturelle + gris de payne, terre de sienne brûlé, rouge, bleu winsor, indigo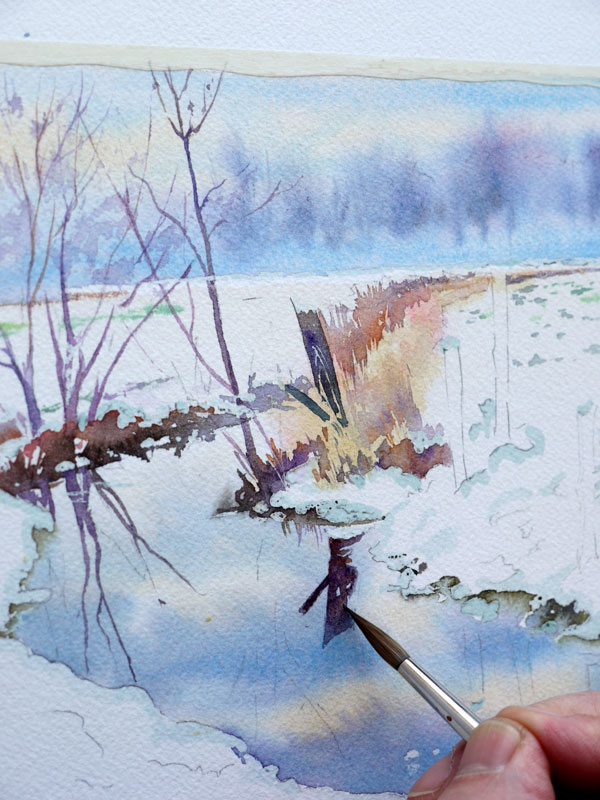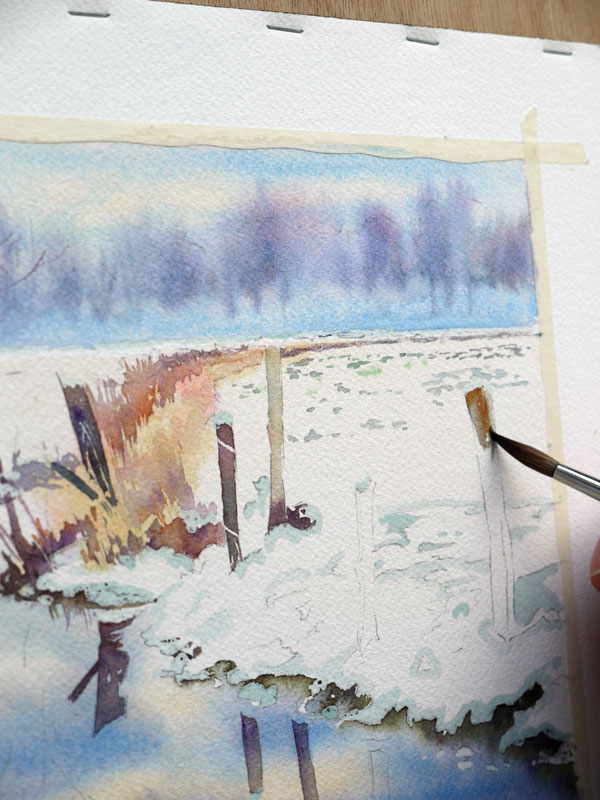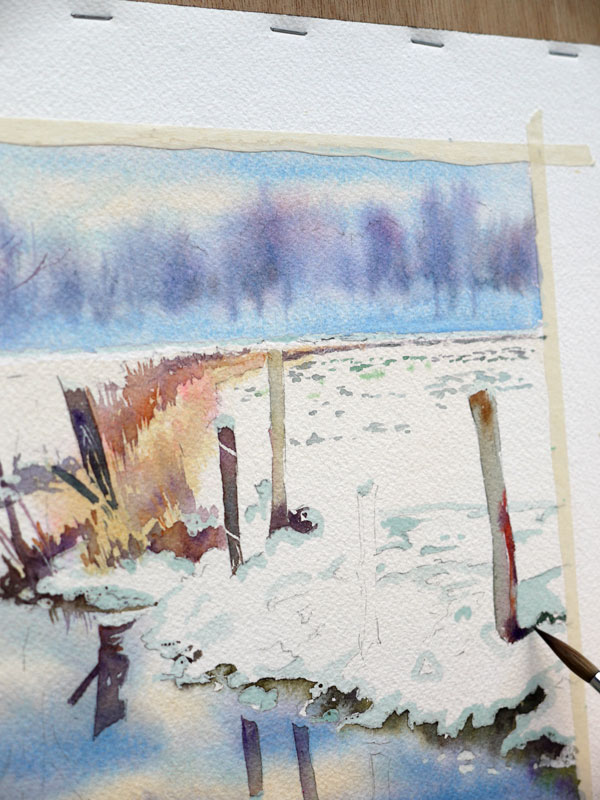 Step 12 : Attention à cette étape : je repasse un lavis plus fort sur l'ensemble de l'eau (même mélange que le premier passage) à l'exception des bords pour simuler la glace. Le mieux est de faire ce lavis avant d'avoir réalisé les reflets des piquets pour ne pas entrainer les pigments.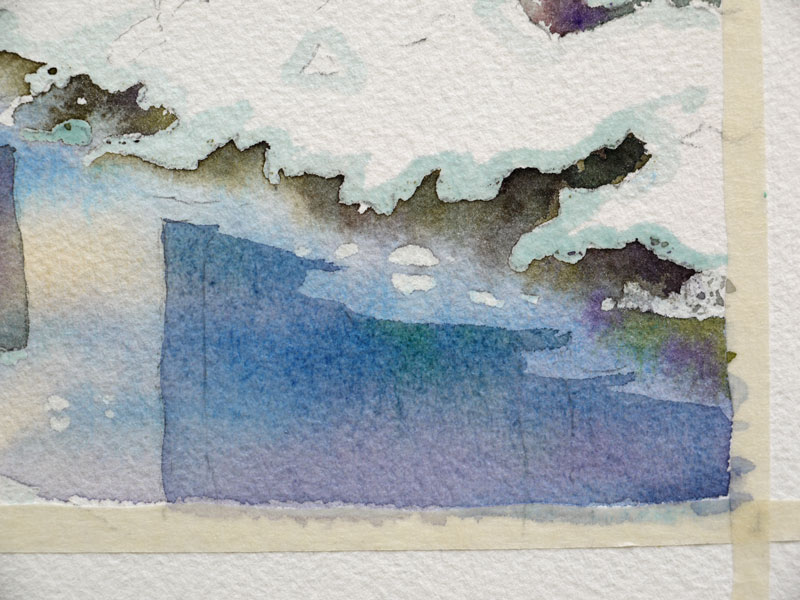 Step 13 : Je finalise l'herbe.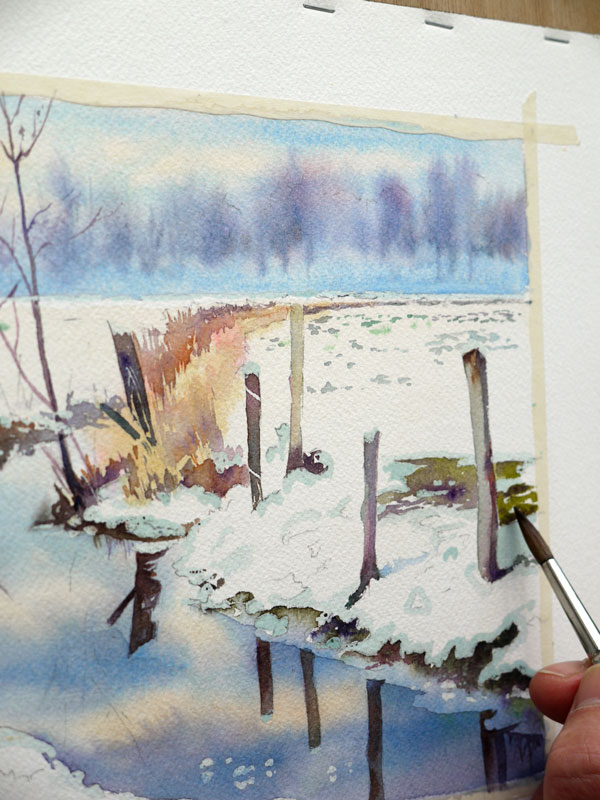 Step 14 : A l'aide de mon pinceau horizontal pour les reflets sur l'eau, j'applique le même procédé qu'à l'étape 10.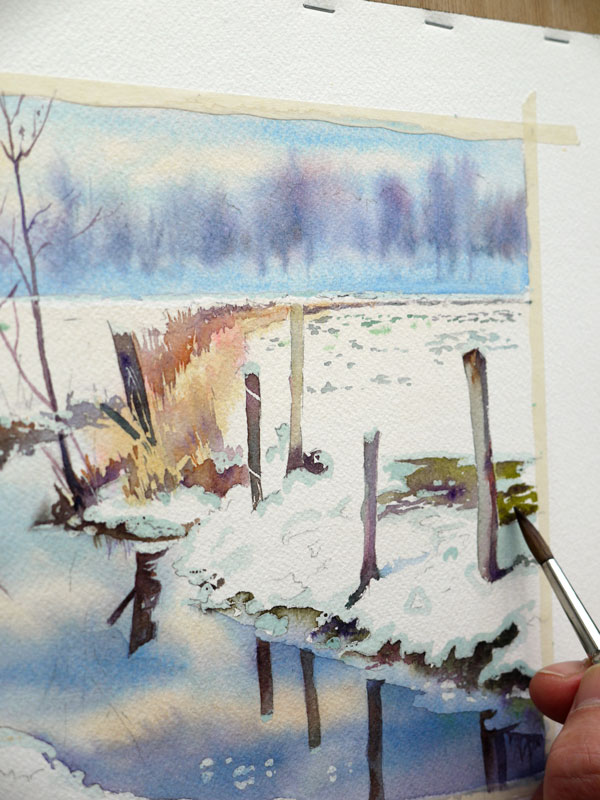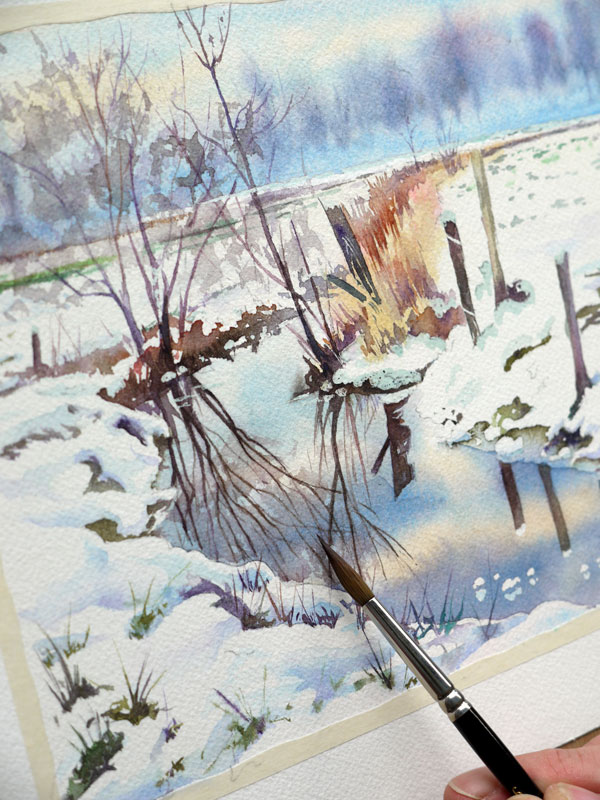 Step 15 : J'enlève les derniers drawing gum. Je réalise les reflets des piquets, les ombres de la neige par des variations de bleu et de de violet, les herbes du premier plan : or vert, sépia et violet transparent.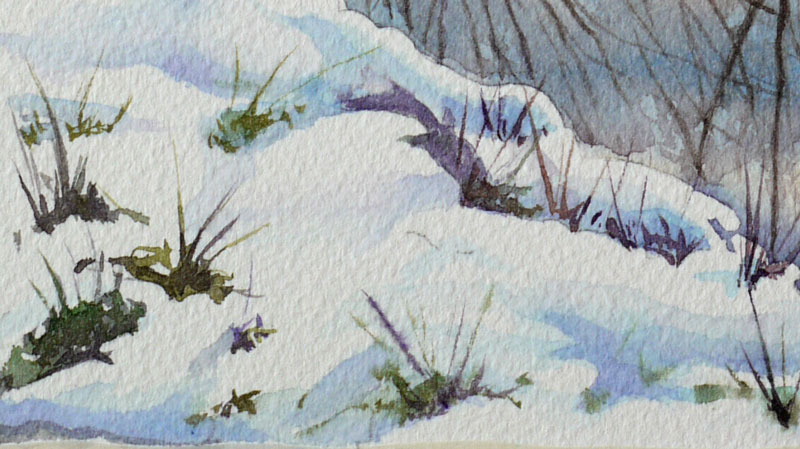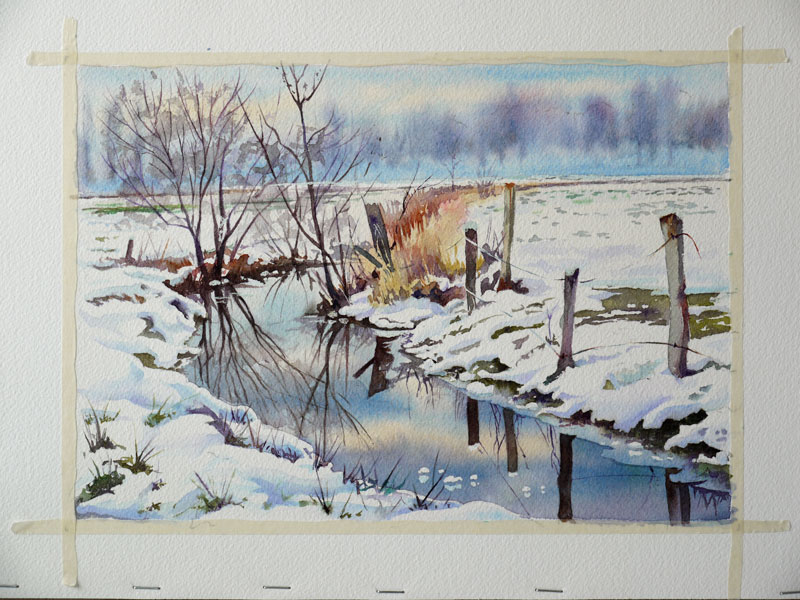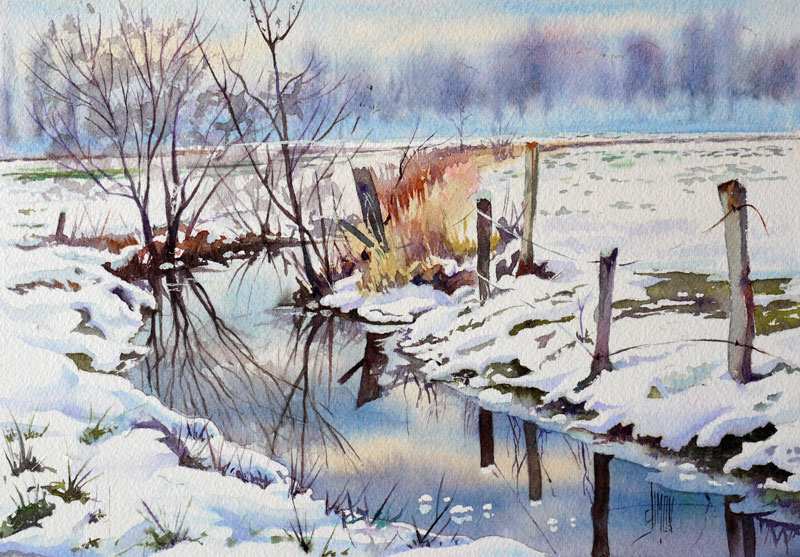 Voilà qu'à présent il fait froid, je rentre.